Pucci was an Italian fashion designer known for his signature use of bright colors and bold patterns. The son of an Italian noble, he was a member of the 1934 Italian Olympic ski team and received a skiing scholarship to Reed College. Emilio Pucci was an Italian designer who entered the fashion world by designing sportswear. Pucci began designing completely by chance. He was inspired by the ski slopes to design ski clothing. Pucci's fashion ambitions were encouraged when, in 1947, he was photographed by Harper's Bazaar wearing skiwear he had designed. In 1950, Pucci opened a couture house on the Isle of Capri.

During the height of his career, Emilio Pucci was known by such nicknames as the Marchese and the King of Causal Couture. Emilio Pucci's collection is best known for its signature prints. The iconic print consists of graphic, abstract designs, which swirl in a kaleidoscope of color. The joyful prints and exuberant use of color, combined with exquisitely designed silhouettes, make Emilio Pucci shoes indispensable accessories for chic, glamorous women. Crafted from the finest materials, Emilio Pucci shoes are collectable pieces of awe-inspiring beauty.
The Pucci woman never goes by unnoticed.

Shop for Emilio Pucci at Zappos and enjoy free shipping in the USA!



Celebrate your gorgeous graduation! Proudly pass through life decorated in the fabulous flying colors of Emilio Pucci™!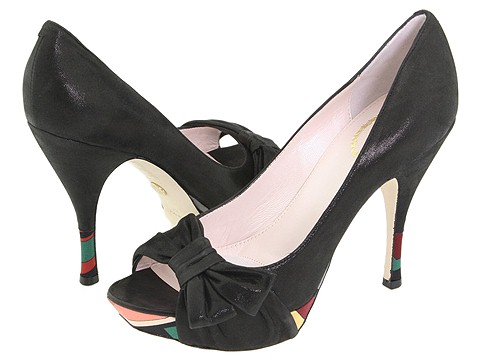 Emilio Pucci - Platform Ribbon Pump (Black) - Footwear

Luxe leather upper. Open toe. Beautiful bow accent. Leather lining. Leather sole. Continental heel. Enticing Emilio Pucci print on the outsole of the platform and lower heel. The 1 platform makes the 4 heel feel like 3. 4 heel. 1 platform. 9.50 oz. Made in Italy.


Don't let the weather ruin your high-fashion style!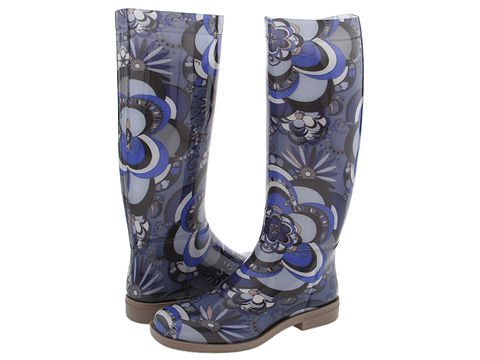 Emilio Pucci - 774105 (Blue Roses Rubber) - Footwear

Rubber boot with signature Pucci print inlay. Fabric lining. Rubber sole. 1 heel. 14.50 shaft height. 14.00 circumference.



Discover more than meets the eye! Sensuous, sleek, and stylish, shift your style into opulent overdrive while you stylishly strut in these divine demi-boots by Emilio Pucci™.


Emilio Pucci - 794868 (Bordeaux Patent/Chocolate Suede) - Footwear

Patent and suede upper. The curved patent leather masterfully frames the fine features of this demi-boot. Back zipper closure. Leather lining. Leather sole. 3 1/2 heel. 6.00 shaft height. 10.00 circumference. 10.00 oz. Made in Italy.



Entice your equilibrium with a dramatic downpour of vibrantly visual vertigo dazzlingly detailed on these artistic boots by Emilio Pucci™!


Emilio Pucci - 794580 (Chocolate Print Rubber) - Footwear

Rubber upper. Exquisite Emilio Pucci print on the outer. Synthetic lining. Synthetic sole. 2 heel. 14.50 shaft height. 14.50 circumference. 27.00 oz. Made in Italy.