Revolutionize your wardrobe with vibrant victory wearing this delightful dress by LOVE Moschino™!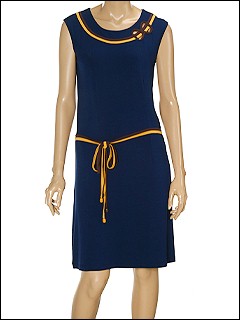 Moschino - Striped Tie UP Dress (Navy): link

Scoop neck. Two colored stripes accent the neckline. Bow cutout edged in an alternate color at the right side of the neckline. Sleeveless. Two-tone tie around the waist. Bead accents at the ends of the tie. 95% viscose and 5% elastane. Machine wash cold and line dry.
Free shipping in the USA.