Aching to be loved? You've got to love yourself first. Appreciate you're amazing allure with this joyful jacket by LOVE Moschino™!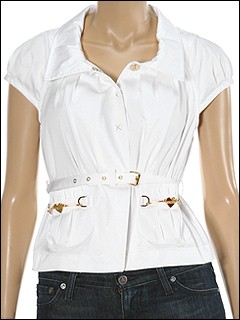 Moschino - Satin Belted Cap Sleeve Jacket (White): link

Snap button closure. Cap sleeves. Belted waist. Lower front pockets with LOVE Moschino heart shaped accents. Flared bottom hem. 98% cotton and 2% elastane. Dry clean only. Free shipping in the USA.