Look absolutely delicious! Like milk and sugar. Did you know the word seersucker came from a Hindi word shir o shakar meaning milk and sugar? Show your sweet side with this sublime 'Seersucker Blazer' from LOVE Moschino™!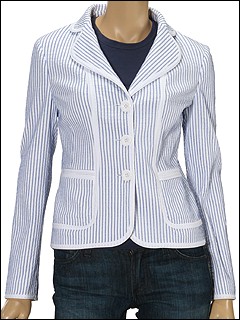 Moschino - Seersucker Blazer (Blue): link

Three button closure. Long sleeves. Lower front pockets. 77% cotton and 23% elastane. Body lining: 67% acetate and 33% elastane. Dry clean only. Ships free in the USA.