Fresh, innovative, and original! Expect the unexpected with these unabashedly unique sandals by Giuseppe Zanotti™.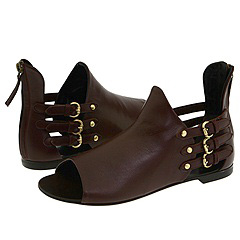 Giuseppe Zanotti - E90525 (Nappa Cioiolato): link

Leather upper. ; Open toe. Zipper back closure. Triple straps on the back quarter. The outer straps are buckled. Straps have stud detailing. Leather lining. Leather insole. Leather outsole. 3/8 heel. 6.00 oz. Made in Italy. Free shipping in the USA.