Feature a flair for the finer things in life. Fine tune your couture channel to an opulent obsession wearing these stunning shoes from Moschino Signature™!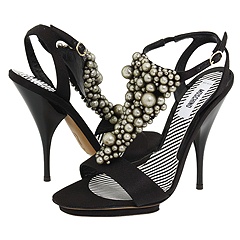 Moschino - MA1662BC0P: link

Thrilling textile upper. A wonderful waterfall of striped pearlescent baubles cascade down the front vamp. Side buckle closure. Striped leather lining. Leather sole. The 1/4 platform makes the 4 1/2 heel feel like 4 1/4. 4 1/2 heel. 8.00 oz. Made in Italy. Free shipping in the USA.